Unintentional landscapes
Go and immediately come back.
Return and then start again, fast passes from one point to the other of Italy, chasing the commitments of a job that went fast. Mostly by train, but sometimes also by car or plane.
And beyond the window landscapes in motion, blurred by often dirty glass, clouded by distraction and urgency.
The "paesaggio di passaggio" – landscape of passage -, the landscape of one, of many passages that blur together until you decide to stop them. Then you lean the camera of your smartphone against the glass and shoot, knowing that what you see in that instant isn't what you will see in the picture because that window on the world moves fast and between your "click" and the recording of the image there is, inevitably, a delay.
A typical latency of these devices that do everything to resemble a camera but that camera, in the end, cannot be. And so these landscapes become random… to decide the frame, the subject, it isn't only you but also (and above all) the case.
You take the first photos, the result is sometimes encouraging and others to throw away but it's still a good antidote to the repetitiveness of the trip… and when you take so many trips up and down the Country in just a few months, you accumulate a lot of repetitiveness…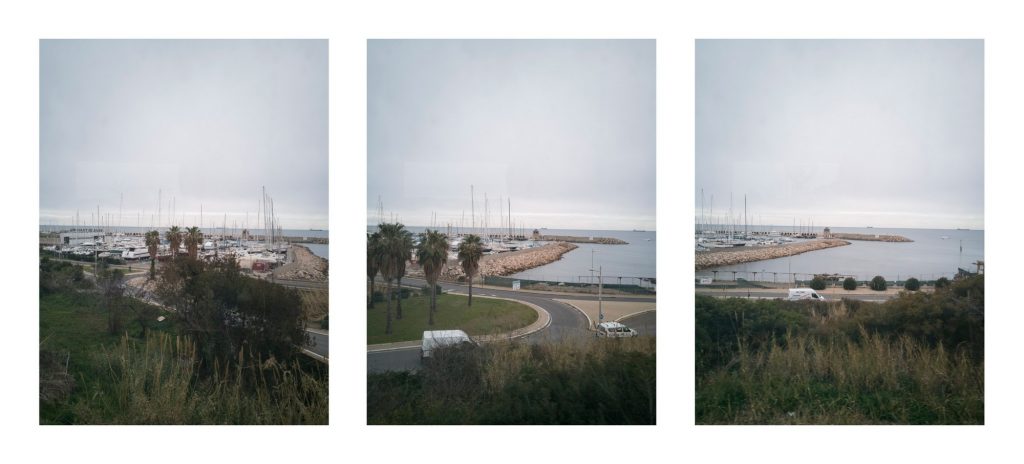 Then, when it's all over and you're back to your normal rhythms, you find yourself with over 1400 photos to look at. Too many, you think.
And you leave them there to grow old, to mature, until – going back to look at them – they begin to take on, in your eyes, the sense of a story.
A story that is expressed in pairs and sequences of images. Temporal sequences or suggestions that make you understand that this strange country of ours, so apparently different from region to region and in the people who live there… in the end you always present the same face as you travel through it.
Perfectly superimposable and in any case unidentifiable… no matter where you are at that moment. The traces of squatting, of the lack of urban planning – the same industrialization – are everywhere the same and have left the same panoramas, whether in a southern suburb or in a production plant in the Po Valley, in a glimpse of the Ligurian or Calabrian sea.
The landscape, out there, is decorum and decay, sun and fog, green and blue. And wherever these exteriors are, they have the same color and appearance; nevermind whether you are North or south, along the coasts or the plains.
As long as you move, as long as you are passing by, you feel inside yourself – reflected in that glass – that you are part of a single great place, sometimes beautiful and often gray and inside a single great landscape: the Italian one.
Andare e subito tornare.
Tornare per poi ripartire, passaggi veloci da un punto all'altro d'Italia, inseguendo gli impegni di un lavoro che andava veloce. In treno perlopiù ma a volte anche in auto o in aereo.
E aldilà del finestrino paesaggi in movimento, sfocati dai vetri spesso sporchi, annebbiati dalla distrazione e dall'urgenza.
Il paesaggio di passaggio, il paesaggio di uno, di molti passaggi che si confondono finché non decidi di fermarli. Allora appoggi la fotocamera dello smartphone al vetro e scatti sapendo che ciò che vedi in quell'istante non è quello che vedrai in foto perché quella finestra sul mondo si muove veloce e tra il tuo "click" e la registrazione dell'immagine c'è, inevitabilmente, un ritardo.
Una latenza tipica di questi apparecchi che fanno di tutto per somigliare a una macchina fotografica ma che fotocamera, in fin dei conti, non possono esserlo.
E così questi paesaggi diventano casuali… a decidere l'inquadratura, il soggetto, non sei solo tu ma anche (e soprattutto) il caso.
Scatti le prime foto, il risultato è a volte incoraggiante e altre da gettare ma è comunque un buon antidoto alla ripetitività del viaggio… e quando ne fai tanti, di viaggi, su e giù per il Paese in pochi mesi, di ripetitività se ne accumula molta…
Poi, quando tutto termina e si torna ai ritmi normali ti trovi più di 1400 foto da guardare. Troppe, pensi.
E le lasci lì a invecchiare, a maturare, fin quando – tornando a guardarle – non cominciano ad assumere, ai tuoi occhi, il senso di un racconto.
Un racconto che si esprime in coppie e in sequenze di immagini. Sequenze temporali o di suggestioni che ti fanno comprendere che questo nostro strano Paese, così apparentemente diverso tra regione e regione e nelle persone che vi vivono… alla fine ci presenti sempre lo stesso volto mentre lo percorri.
Perfettamente sovrapponibile e comunque non identificabile… non importa dove ti trovi in quel momento. Le tracce dell'abusivismo, della mancanza di una programmazione urbanistica – la stessa industrializzazione – sono ovunque uguali e hanno lasciato gli stessi panorami, che siano di una periferia del meridione o di un impianto produttivo in Val Padana, di uno scorcio di mare ligure o calabrese.
Il paesaggio, là fuori, è decoro e degrado, sole e nebbia, verde e blu. E ovunque queste esteriorità si trovino, esse hanno lo stesso colore e lo stesso aspetto; non importa che tu sia a Nord o a Sud, lungo le coste o le pianure.
Finché ti muovi, finché sei di passaggio, senti dentro di te – riflesso in quel vetro – di essere parte di un unico grande luogo, a volte bello e spesso grigio e dentro un unico grande paesaggio: quello italiano.

Immagini collegate: